The natural parasol shapes...
The natural parasol shapes of Espaliers
The exact experience of a tree, without the disadvantages. This is the most natural solution in the field of sun protection. Natural parasol trees are balanced yet informal. The crown provides volume and depth tailored to your experiential environment. Each leaf in the crown receives the appropriate light. So you won't have leaf fall or yellow leaves in the middle of the summer. Just like a tree, you can look deep into the crown and experience a complete tree feeling.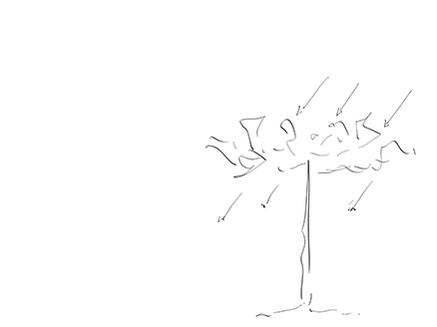 Tailor-made
Because its dimensions are adapted and kept within limits, the tree does not give problems with its roots. As with most of our parasol trees, no measures need to be taken. We have bred the natural parasol shapes in several trunk heights and in several trunk types. Discover our product range!
Sunshades with elegant trunks.
This calligraphic trunk type is one of our favourites. The stems have the elegance of a ballerina and send your view waving to the crown. The foliage can be both refined and natural with this stem type. The elegant stems we grow do not block your view. It is a multi-stem, without the space-consuming presence of a multi-stem.
They are works of art with a modest presence and are suitable for repetition. Elegant trunks can be integrated next to the terrace or in the patio. They are available in different trunk heights which can be matched to the architecture of the house.
Roof and parasol trees with artistic trunks.
Espaliers' artistic trunks take the spotlight. With their imperfect structure, twisting instead of straight, they immediately grab your attention. The trunks are powerful and elegant at the same time and there is always a slight form of asymmetry. Cultivated with a natural parasol, you have a tree that, once planted, gives you the feeling that it has always been there. Grown with a refined parasol, you get a nice contrast between the wild, twisting trunk and the firmer crown.
Parasol trees with characterful multi-stems.
Characterful multi-stems can carry wider parasols. So with one parasol tree, you can have the whole family enjoy an outdoor meal under its canopy. This type of trunk can best be compared to a standard multistemmed tree, but grown in such a way as to preserve its character and limit the amount of space it takes up.